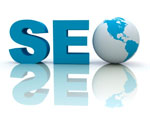 There are two types of search engine optimization (SEO) techniques that determine your website's standing on the search engines. They are, On Page SEO and Off Page SEO. On Page SEO include all the elements of SEO you can directly influence by adjusting the components that make up your web page. The point of On Page SEO is to maximize search engines performance for targeted keywords in direct relation to the on page content.
It basically means optimizing the text and formatting of TEXTUAL elements on web site pages. In simple terms it refers to the editing the content of the page so that search engines can find it when a user searches for it using a particular keyword or keyword phrase.
In addition to looking at the code that makes up a web site, On Page SEO focuses very closely on the quality of content and structure of the site. Search engines weight the structure of a web site highly because they want to know what's important about each site. Semantically Relevant information needs to be as high up in the site's hierarchy as possible and each page should use links to other relevant pages.
Relevancy is derived from:
The topical theme, depth, detail and value of the information presented
How the pages on the site are inter-connected – Things like the internal anchor text, its source and destination are analyzed by the search engines. Where you can, include links to related products, articles and searches. Ensure the anchor text is optimized to include your keywords. Also look at the number and nature of external links and how concentrated they are along with which pages they are pointed to
Structural elements – Using headings, titles and lists among other HTML tags that signal importance.
On Page SEO is deployed in an attempt to influence how search engines view your website and thereby control your rank. On page search engine optimization or on page SEO basically seeks to influence and control how the Internet views your website or web design. On Page SEO techniques, when applied effectively, can result in significant search benefits and generate high Google, Bing and Yahoo rankings, driving traffic to your site and increasing your ROI.
On Page SEO has been around since the first commercial search engines appeared in the mid 1990's. In the beginning the search engines used simpler, less complex methods and the web was a much smaller place. Simple On Page SEO was sufficient to differentiate sites of relevance. The search engine basically used a comparison of on page elements to determine search engine placement. Techniques such as keyword stuffing (mentioning the term you wanted to found under an unnatural number of times) was effective in this erra.
As the Internet grew and large volumes of new sites and content were created, it became necessary to apply increasingly sophisticated methods of generating relevant search results. Clever site owners and SEO practitioners looked for ways to promote sites to the top of search returns so the search companies began working hard to keep ahead of them. A sort of SEO "arms race" was formed. To this day search engines devote most of their effort to differentiating between sites of relevance and sites that spam them with worthless content.
There are a number of general rules of that should be adopted to rank high on the search engine result pages (SERP's) such as creating a well optimized navigational layout. While many crucial ranking factors covered by On Page SEO are under your control it's the  balance between On Page SEO and Off Page SEO that determines Search Engine Optimization success.
First, find the most searched keywords for the niche, genre or theme, of your content. Next, use those keywords throughout the content and apply an internal linking strategy based on contextual architecture. Make sure you use high quality content to target your keywords and don't sacrifice readability. Search engines are looking for relevant content  and much prefer informative copy over uninformed content. After all, returning most useful results is their entire purpose.
You should treat each web page on your site as standalone entity. Every page of your web design / site should have a Unique Title Tag that reflects the content on that particular page. Include keywords in your domain/sub domain or file/folder. Quality Search Engine Optimization will make sure that your URL contains your most important keyword. In a perfect world, include your keyword at the start of your web pagefile name. For example look at this page, "what is seo" and "on page seo" are included in the URL. Don't worry about creating complex URLs. When was the last time you typed a URL into the address bar for a sub page of a web site? Heck, most people type Facebook into Google instead of Facebook.com into the browser address bar.
Tag content with informative and compelling titles and descriptions, make sure the alt-attributes, and the file naming conventions are themed and optimised.
Header Tags are an On page SEO factor that can be used to influence the search engine algorithms but they must be applied with care. Ideal optimization involves a single H1 tag containing the main keyword for that page followed with three to four H2 tags that contain the secondary keywords for that page. H3 title tags and below don't seem to matter much.
You should also try to include your keywords in the anchor text of any links and in the alt attribute of the images on the page.
While optimizing your web page for the search engines maker sure you remember that the ultimate consumer of the content is the reader and not the search engine. Your content needs to be easy to read. Keyword Density is a balancing act though it is safer to weigh the balance in favor of the readers not the search engine spiders. Search engines are programmed and fashioned on principles of ethical (by their own definition) behavior such as reputation and trust. Take care not to 'over optimize' pages by stuffing them full of key words.
Not only will the content read poorly but you may be penalized by the search engine algorithms which take into account the keyword density of a particular page. By applying   research done on the best returning web site the ideal keyword density for Google seems to be 1.5% – 1.8% and for Bing it is up to 3% . Anything greater then 10% and it's pretty easy for the search engines to tell that you are trying to game the system.
A keyword density greater then 10% is seen as spamming or spamdexing and sends up an immediate red flag alert to the search engines. You should also avoid hidden text, using link farms, irrelevant keywords in your link-ads, junk links, doorway pages link churning, mirror pages, hidden inbound links and cloaking. Such Black Hat On Page SEO could lead to search engines reducing your rankings or eliminating your site from the listings altogether.
Of course web sites need off page optimization and links to be treated as an authority and to rank well by the search engines it's also important to ensure that your On Page SEO factors have been addressed as well.
Contact us (Wi-Phye a Cleveland SEO Company) now to see how we can help your on page SEO.