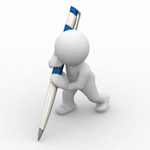 Article submissions can be a valuable and effective component of a link building campaign. Article submission has the potential to create and high number of quality links back to your organization's website while at the same time promoting your knowledge, expertise, and reputation across your industry. If you submit articles to high quality and authoritative sites within your business segment, then you may develop a new stream of traffic coming for your site.
Wi-Phye can produce informative, high quality, engaging and original articles that are then submitted and published to selected destinations determined by our link building strategy.  By being selective about which sites we make submissions to we can ensure the article will be read by a target audience who are actively interested in the product or services that your business offers, therefore attracting new visitors to your website as well improving your website sites authority with the search engines.  Articles written by us  are also optimized to perform well in the search engines through careful selection of keywords, headings, anchor text and other on-page search engine ranking factors. These optimizations are done in an organic matter to improve the quality of the links that are generated.  We also make sure that the use of keywords does effect the readability of an article, as this could negatively effect on how the article performs.
SEO articles produced by Wi-Phye can valuable part of any link building campaign.  Not only do they provide new sources of traffic to your website, but they also help to create a natural link profile. This is even more important since Google's Penguin algorithm update.
Contact us to learn more about SEO article submissions and how they can improve search engine optimization performance.
Wi-Phye is an experienced Cleveland SEO company servicing clients throughout Northeast Ohio.