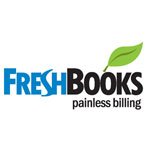 Companies and small businesses have been sending invoices to customers the same old way for decades, but what if I told you there is a service that could change the tired old thinking and make it simple and fast. This is where Freshbooks comes in.
Anyone who owns a small, medium or even large business knows that sitting down every month with either excel, word or quickbooks to create and send out invoices is a boring and time consuming task. Your time could be better utilized doing other things like looking for the next new client to invoice one day. Invoices have to be created, printed, stuffed into envelopes, addressed, stamped and mailed using traditional snail mail. Then you have to wait for your customers to write a check and do the process all over again to mail you a check. Thats alot of time and I dont know about you but I dont have any staff members with extra time on their hands. On another note, how do you keep track of time spent on projects for customers and does that time data import to your current invoicing methods seemlessly, I bet it doesnt. Take a look at Freshbooks!
Freshbooks is an online service for automatically sending out either electronic or paper invoices to your customers with many addons and functionality that your customers will appreciate. Heres how it works:
Go to Freshbooks.com and sign up for the service. I will be upfront with you and say that this is not totally free but it is reasonably priced and your first 3 clients that you invoice are free. After that it is 19 dollars for 25 clients and 29 for a hundred clients. You can go all the way to 5000 clients serviced by this system. Once you have created your account, you can then setup your client list and begin creating quick invoices that can be delivered either electronically or have an actual paper invoice be sent through the mail. The paper invoices give you options to add your company logo and information to the printed material so it looks very professional and looks like it came from your business and not someone else. Customers then have the option to mail you the payment or log into the website and pay online. This is what sealed the deal for me. I hate getting checks in the mail and then having to go to the bank and make a deposit. They are also working on a Quickbooks plugin that will automatically update your quickbooks records to show if payment has been recieved. Pretty nice!
Freshbooks also has a few addons that you can integrate with your account to perform certain tasks. These include mobile applications for the iPhone and windows mobile devices that let you manage your account and track time spent working with clients. Desktop clients are also provided for Windows and Mac.