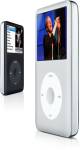 I figured it was time to take a break from the tutorials for a moment and have some fun. Well, that's not completely true. NPR is having one of their two week fund drives and I can't personally stand to sit through that on the way to work. It would be different, if once you made your donation, you could some how stop hearing all the fund raising breaks. Something to work on.
Anyway, seeing I'm solely depending on the content on my iPod to entertain me during my commute, I thought I'd share my top ten favorite podcasts and IPTV shows with you.
Safety Tip: Only use the IPTV shows if you take the Bus.
These are in no particular order seeing I listen to or watch all of them every week. It's no coincidence that all of these are produced and hosted by former members of the great T.V. channel, Tech TV. Of course, it is old news that Tech TV was bought by Comcast, folded into the crappy G4 channel, and all the talent left. Luckily they are all doing the following podcasts and IPTV shows. I miss the Screen Savers but, these are the next best thing to reliving the glory days.
This Week in Tech. Your first podcast of the week is the last word in tech. Join Leo Laporte, Patrick Norton, John C. Dvorak, and other tech luminaries in a round table discussion of the latest trends in high tech. Winner of "People's Choice Podcast" and "Best Technology Podcast" in the 2005 People's Choice Podcast Awards. Released every Sunday at midnight Pacific.
Security Now. Steve Gibson, the man who coined the term spyware and created the first anti-spyware program, creator of Spinrite and ShieldsUP, discusses the hot topics in security today with Leo Laporte. Published every Thursday.
MacBreak Weekly. Get the latest Mac news and views from the top journalists covering Apple today. This round table discussion is audio only, and complements the video only MacBreak. Another great show from the Pixel Corps and the TWiT.tv network.
DL.TV is for tech fans, by tech fans. It features some of the most timely and honest views about what is going on in tech today!
Tekzilla. Embrace digital technology. Join the Tekzilla crew and make your tech work better for you. Or you can go live in the woods with an axe. Every Friday, Patrick Norton delivers product reviews, computer help, tech tips on everything from iPods to camcorders, HD to the Internet, plus do it yourself projects.
Systm. Systm is the Do It Yourself show designed for the common geek who wants to quickly and easily learn how to dive into the latest and hottest tech projects. We will help you avoid pitfalls and get your project up and running fast.
Diggnation is a weekly tech/web culture show based on the top digg.com social bookmarking news stories.
Mahalo Daily. Veronica Belmont hosts Mahalo Daily. A daily IPTV show that is kind of like a video version lifehacker.com.
IT Conversations. IT Conversations is more of a podcast channel then a weekly show. It offers interviews with top industry insiders as well as recorded speeches from the major IT conferences.
Cranky Geeks. Cranky Geeks is a round table discussion hosted by John C. Dvorak that covers the IT industry in general. John C. Dvorak, whose crankiness knows no bounds, is a contributing editor of PC Magazine, for which he has been writing two columns, including the popular Inside Track, since 1986. The consistently irritated Dvorak has won eight national awards from the Computer Press Association, including Best Columnist and Best Column.