Lirc being a pain?  Does your favorite universal remote NOT work with your new myth box. Mythetomer is a remote control application for your N800 or N810 to control your MythTv.  Mythetomer uses your WLAN or Bluetooth to make a connection to your Myth Frontend for full control.  No cables, no hours of configuring key mappings to remote codes and no IR learning. No IR at all.  Software available from Mythetomer website, links available after the "click".
Here's the simple nuts and bolts to make this work with your system.  The Software is simply an application for your N800 or 810 and a server application to be installed on your mythfrontend. 
Mythetomer N800/810 app: 
To install the Internet tablet program, navigate to this page from your Tablet and click the download link below.  Follow the prompts.  Easy.
Server App:
On your frontend machine open a terminal window and type in
sudo wget http://netti.nic.fi/~icewood/mythetomer/file.php?file=mythetomer_0.2-1_i386.deb
After the file downloads to your machine type in a terminal window
sudo dpkg -i mythetomer_0.2-1_i386.deb
Done!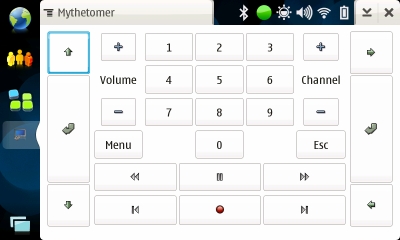 You will now need to shutdown your frontend if you haven't already and start the mythetomer server.  To do this simply open a terminal window and type "mythetomer" and press enter.  Add a & sign at the end to run it in the background otherwise don't close the terminal window or the server will stop.
I set mine up last night using the WLAN in my home and it works great.  The software gives you a remote control surface on you IT with number pad, direction arrows, menu and esc buttons, volume and channel up/down, and player controls such as play, pause, skip forward and back.  I have not tried the bluetooth connection as of yet cause I really have no need too but I might play with it a little later to see what happens.  The performance of the software is top notch, easy interface , no lag on button push and pretty steady connection.  I did have an issue once where the server croaked and the N800 lost its connection.  This required me to shutdown the frontend and restart the mythetomer server which to say the least very frustrating.  I am currently working on a Cron job to monitor the status of the mythetomer server. 
Overall its a good piece of tech gadgetry available for download.  I like it and it works much better than my Lirc based machine remote.  Give it a whirl.
Mythetomer Website