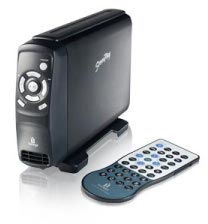 Iomega is releasing a new ScreenPlay HD multimedia drive featuring 500 GB of storage and a HDMI port. Now this wouldn't normally get my attention but, I felt it was worth it due to the format support. Check out this list: WAV, WMA, MPEG-1/2/4, MP3, OGG, AC3, AVI, DivX, XviD and JPEG. Did I see OGG? I think I did.
Of course, like the title says, this media drive comes with a HDMI port as well as composite connections. Furthermore, the unit upconverts SD content to 720p / 1080i and even comes with a remote.
Not bad for a reported $289.00 street price.