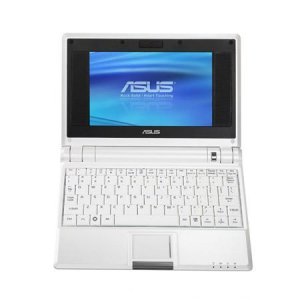 LaptopMag is reporting that the Asus EeePC is going to be available in April at Bestbuy. It should run around $399. The system that will run the Windows XP OS will be the standard Eee PC 4G. Check out the specifications list after the jump.
Colors: Pearl White, Black
LCD Size / Type: 7 Wide
LCD Resolution: 800 x 480 (~WVGA)
LCD Type: TFT
Graphic: Intel UMA
Chipset: Intel Mobile Chipset
Processor: Intel Mobile CPU
Memory: 512MB DDR2
S.S.D Storage (Solid State Disk): 4GB
OS: Windows XP Home Preloaded
Software: MS Works, Windows Live
Audio: High-Definition Audio CODEC
Microphone: 1 Internal Microphone
Speakers: 2 Internal Stereo Speakers
Audio Jack-Out (3.5mm)
Audio Jack-In (3.5mm)
Wireless Included: 802.11 b/g
LAN / Connector: 10/100 Mbps / RJ-45
3 USB 2.0 ports
Memory Card Reader: MMC/SD(SDHC)
VGA Port 1 (D-sub 15 pin)
Integrated Camera
Battery: four-cell 4400mAh
Battery Life: 2.8 hours
AC Adapter Output: 9.5V, 22W
AC Adapter Input: 100-240V AC, 50/60Hz universal
Unit Weight: 2.0 lbs (with battery)
Unit Dimensions: 8.86 x 6.30 x 0.79 ~ 1.26 inches
There is also a rumor that Asus will put in a 4 GB SD card to help with the storage situation as we all know a Windows install will eat up most of the hard drive space right from the start.