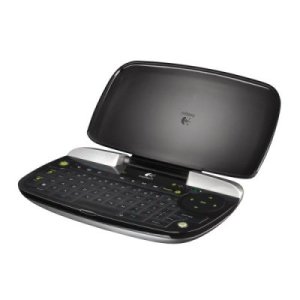 Although it is still not listed for sale on Logitech's site, Amazon is now shipping the Logitech diNovo Mini bluetooth keyboard and mouse combo. I've been waiting for this little gem since it's announcement at CES earlier this year.
If you missed this piece of kit read on for a brief description.
Logitech's diNovo Mini is designed for home theater PCs. We HTPC owners have a problem: how to take full control of your PC and its media functions without relying on a full keyboard or mouse. Both of which our better halves don't want on the coffee table. The diNovo Mini is $145, which is little high for what's really a wireless thumb keyboard with a control pad and a Blue tooth connection. But it elegantly solves a unique problem.
The diNovo Mini features a clamshell design and would fit in with any other remote you might have. It weighs only 0.4 pound and is roughly three-quarters of an inch high and six inches long. Under the cover you have a small-scale, 61-key keyboard, backlit in either orange or green, depending on the mode of the control pad.
The directional pad lets you change it from analog, mouse style control, to directional up-down-left-right controls by filliping small switch. The latter is better for Tivo style menus. The middle of the pad acts like your main mouse button, and you hold down one of the function buttons and a menu button on the keyboard for right-clicking. All in all its better the older diNovo Edge. Typing on the diNovo Mini is like any thumb keyboard.
The diNovo Mini uses a Blue tooth connection and a rechargeable lithium-ion battery so it should work with any blue tooth connection. It claims Windows and OSX support, but I'm hoping that it can be tamed by my Nokia N800 and my Linux based MythTV DVR. Once I receive the unit I'll post a status update on that.
Update
My diNovo Mini is suppose to be delivered today, the 18th, but it appears there is at least one person who has already tried it in Ubuntu with mixed results. They keyboard works but the touch pad doesn't. Check the thread here. At least there is hope.
As for Mac support I found this nugget of hope, the track pad support will come later this year. Maybe…
Well I finally got my diNovo Mini. Check here for my initial test results.