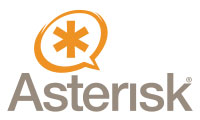 Asterisk, my favorite VOIP PBX for Linux, and an interview with it's creator, Mark Spencer, has made forbes.com. I'll admit I'm posting this for selfish reasons. I have personally installed serveral Asterisk systems for small businesses around town and it is always hard to convince them that the system is for real and in use. I guess it's the old saying, if it sounds to good to be true, then it probably isn't.
Anyway, as an Asterisk user for my home phone system, I can tell you it is true. I'm mostly posting this so I can bookmark it and use it when trying to convince new customers in the future. Its always good to have the main stream media finally back you up. I'm only sorry it took this long. Might have made life easier.
If you have never heard of Asterisk then head on over to digium.com. If you are ready to try it then you can download it here.