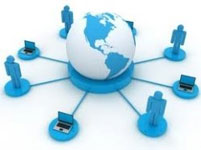 Directories list pages by category and subcategory rather then by keywords like traditional search engines. Listings are normally based on the category the website falls under instead of a set of keyword terms. It is not uncommon for directories to limit the number of categories a website can appear under. The better directories have editors reviewing each directory submission directly submitted by site owners.
Directory submission is one of the easiest ways of gaining new links to a website. By submitting a site to directories with a high page rank you can quickly acquire incoming links and link juice. Opinions differ on how best to approach directory submission. Some consider it a good idea to submit a website to every directory that exists. Others believe in being highly selective and making manual submissions only to the highest ranking directories. There are even companies that will submit your site to certain number of directories for a fixed price.
That might sound like a good deal but they don't usually specify which or quality of the directories they are using. The consensus among SEO professionals is your money would be better spent targeting quality directories and manually submitting your website. Google is actively trying to demote low quality content and being associated with less then savory directories could have a negative impact on your rank.
The important factors that the search engines look for when determining whether a directory will pass page rank are easy to understand. When selecting which directories to submit your site to you should ask:
Does their submission policy state that any fees collected are for paying a human editor to review your submission or is it just to be listed? The search engine value directories with real editorial policies over those that simply list every site submitted. For example, Yahoo has a listing fee of $299 and is well worth it.
Can you tell if the policy is enforced? This is an easy way to determine the quality of the directory. Directories that enforce editorial judgement are of great value to the search engines. Google's main quest is for relevance in their results and human editors help Google determine what is relevant
Here are some other things to consider when determining which directories to submit to.
Do authoritative sites link to the directory's category pages?
Are they difficult to get listed in? This might be a sign that they are very selective and thus a listing with them carries more weight.
When you visit the directory do you find it useful?
Do others spend a lot of time working on their web design to make them eligible?
Do they constantly review their listing to make sure they are current and relevant?
Is the site ad supported? A site that is ad supported gives them an incentive to provide quality listing. Look at Yahoo for instance.
By manually submitting to quality web directories and Article Directories, your on-line presence should receive some of the following benefits:
Additional targeted traffic
One-way links to your Website
Quality backlinks
High Google PageRank
High visibility in search engines
Two of the most popular and influential directories are Yahoo and the Open Directory. Both use human editors to review submission and both enforce their respective editorial policies. When submitting a website to these directories it is very important that the submission guidelines are followed exactly. Success tends to only come to those who submit high quality sites to the proper categories. These directories have submission policies that are unique to each category. This demands that each submission must be done by hand to ensure compliance. Automated submission software or companies offering submissions for a fixed low cost cannot adequately comply with these requirements. Even though there might be a cost associated with commercial submission to these directories, it is worth it. If you are listed with them it is more likely that your site will be added to other directories that import listings from these directories for free.
At Wi-Phye we offer manual submission of your website url to various directories. We can also manually submit your articles to article directories, social bookmarking, guest blogs and even post to appropriate forums. All of this should result in improved search engine ranking and high quality targeted traffic to your website.
Are there other directories besides Yahoo and Open Directory? Sure there are. The following are some of the other directories we consider submitting your site to depending on the Search Engine Optimization strategy.
Best of The Web
Business.com
Starting Point
ExactSeek
Librarians' Internet Index
We recommend inclusion in a range of popular directories as a part of any link building campaign. In addition to the general-purpose directories we also recommend others such as wowdirectory.com, goguides.org, 01webdirectory.com, abilogic.com and allthewebsites.org. Google uses the Open Directory as its base and enhances it using its own technology.
Another directory submission strategy is to submit your website to directories that serve your specific industry. Most vertical niches have there own high quality directories worthy of consideration.
By learning how to submit your website to quality directories you can quickly start to build up high quality links. To make it easier, let Wi-Phye handle your directory submissions on your behalf as part of your overall Search Engine Optimization campaign.  Our Directory Submission SEO Services will increase your chances of getting listed, enhancing your Search Engine Optimization and delivering a significant competitive advantage.
To find out more about how we can help you with your Directory Submissions, Contact Wi-Phye today.
Wi-Phye is an experienced Cleveland SEO company servicing clients throughout Northeast Ohio.