Why should your business invest in search engine optimization?
Here are a few search engine optimization statistics:
34,000 searches are conducted on Google EVERY SECOND. To put that in prospective that is nearly 3 billion searches a day. Or how about roughly one search for every two people on the planet. hubspot.com
70% of the links search users click on are organic. This means that Pay Per Click (PPC) ads such as those at the top of the Google results page are only effective 30% of the time. This also means that spending your marketing budget on an effective SEO campaign may bring more traffic to your website then simply buying ads on the search engines. searchenginejournal.com
A User Centric eye tacking study found that 70%-80% of search engine users focus only on organic results. usercentric.com
The top two user activities on the Internet are search and e-mail. pewinternet.org
Research shows that search is the number one source of traffic to content sites, beating social media by more than 300%. outbrain.com
The point of these statisics is to point out that there are a lot of eye balls out there, literally six billion a day and they perfer organic results rather then PPC ads. In order to capture the attention of these eyes and for them to consider your business when making purchasing decisions, you would absolutely benefit from being at the top of the search results. That's where Wi-Phye can help.
Search engines having become the Internet's second "killer app". A study from Slingshot SEO shows that 18% of organic clicks go to the first position on Google, 10% of organic clicks go to the second position, and 7% of organic clicks go to the third position. That same study shows that 17% of Bing users click on one of the first three results. Given these facts, if you aren't at least on the first couple of search result pages returned, you might as well not be listed at all.
Everyone wants more traffic. Traffic equals more visits, more visits means increased exposure. This increase in exposure hopefully leads to conversions, more sales and larger profits. It just makes sense to be at the top of the search results.
Appearing at the top of the search results rarely happens by chance. In a contested environment you can be sure that your competitors will be doing everything they can to make themselves number one.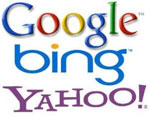 It is in their best interest after all. A study by Fleishman-Hillard in January of 2012 found that Eighty-nine percent of consumers surveyed use Internet search engines to make purchasing decisions, punctuating the need for a strong search engine optimization (SEO) strategy. It is easy enough to see – if you want a piece of the online pie you HAVE to be at the top of the search engine results. With Google having over 60% of the search engine market share, this means Google's results.
What is Search Engine Optimization?
Search Engine Optimization or SEO for short is the process of getting traffic from the "organic," "natural or "free" listings on search engines. All the major search engines such as Google, Bing and Yahoo return results, where web pages and other content such as videos or local listings are displayed and ranked based on what the search engine considers most relevant to users.
How does a Search Engine determine what is relevant?
Google, as an example, looks at over 200 hundred factors when deciding the relevance of your web page and thus where to place it in the search results. These factors can generally be placed in two categories. "On Page SEO" factors such as page title, body text and tags, and "Off Page SEO" factors like inbound links, anchor text and PageRank.
The basic idea of search engine optimization is to positively influence the search engine's algorithm and help it determine the relevancy of your page. Relevance is the most important criteria, especially in the case of Google. Search engines work hard to deliver relevant search results – they strive endlessly to achieve relevance – it's what determines their long term success.
Keywords, in particular the title tags and those contained within the body are the "on page" factors that contribute the most to helping Google determine relevancy. "Off page" factors such as the quantity and quality of inbound links have the most influence on rank.
The fact that there are so many different factors and interdependent parts involved in any Search Engine Optimization Service, to stand the best chance of success, it would be in any business's best interest to work with an experienced SEO professional.
At Wi-Phye we offer a complete Search Engine Optimization service. We do everything in our power to position your business at the top of search engine rankings.
Our range of proven SEO services that go into making up a successful SEO campaign include:
On page ranking factors
We perform exhaustive keyword and key phrase research
Make any on-page optimizations needed
Review your copywriting and perform Search Engine Optimization such as page title, heading and other tag adjustments
Improve your internal link structure,navigation and overall web design.
Optimize your urls to include your keywords if needed
Look at your meta data description and hone them to increase click through
Off page ranking factors
Analyze your inbound links and look for opportunities for improvement.
Research your competitors inbound links and use that data as part of our link building  strategy
Integrate your website with popular social networking and social bookmarking services to spread your product or brand to a wider audience.
We provide a number of other link building services such as directory and article submissions.
All our services are supported by reporting enabling clients to monitor the success of their campaigns by monitoring search rankings, website traffic, search terms and tracking your inbound links. This allows us to maximize the benefits of your search engine marketing campaign over time.
The Internet is a constantly changing, competitive landscape and at Wi-Phye we prefer to form long-term partnerships to ensure success.
Our Search Engine Optimization services are comprehensive and on-going:
Receive a FREE SEO Proposal
After an initial conversation we can create a detailed report of your website's current search engine performance. We will analyze its strengths and weaknesses and suggest the best path to increased performance.
SEO Analysis
Detailed analysis of your site performance will reveal problematic URLs, duplicate content issue, barriers to the search engines ability to index your website and poor search engine optimization such as damaging code. We will research keywords and key terms appropriate to your organization's category and goals. Wi-Phye will preform an analysis of your competitors and set achievable campaign goals.
On Page Search Engine Optimization
Once you have decide to use our search engine optimization services we will review and begin to improve your website design, navigation, keyword density, meta-data descriptions and page titles to cover the technical aspects of  "on page" search engine optimization. Small things can have a huge impact. Things such as page load times, duplicate content, keywords included in the page titles and urls are like candy to the search engines.
Your website should have the most relevant content as high up in the site's hierarchy as possible. Your content should also use structural elements like headings, paragraphs and other structural HTML tags to signal their importance to the search engines.
Content & Search Engine Optimization
Content is king, and the importance of content creation cannot be overstated. Unique, informative, valuable and relevant content is one of the best ways to differentiate your website from that of your competitors. Good copy is a required part of quality content. Strong content that answers and engages its readers is the most effective approach to long term SEO success. Especially if the copy is kept fresh and regularly updated.
Link Building & Off Page Search Engine Optimization
A natural incoming link profile is arguably the most important off page search engine optimization factor. Google, Bing and Yahoo want to see high quality and relevant links from other sites pointing back to yours. Links add authority and improve site relevance. With our link building service we try to acquire these links for you. Sources might include business partneres, directories, and blogs.
Website Analytics
Wi-Phye offers comprehensive website analytics. We can provide monthly reports that outline your website's rankings in the various search engines corresponding to specific keywords. We also look at visitor behavior and measure site performance through traffic reports, navigation patterns, time on-site and a number of other metrics. If you can not measure it, you can not improve it.
Contact Wi-Phye to discuss your SEO requirements and receive your free SEO analysis.