A new application has been released for the Ipod Touch and the Iphone.  A Boxee Media Center remote control application that in my opinion is CRISPY!!!!  The application which is currently available through the App store on your device can be downloaded for free and gives you control over any Boxee media center you may have running on your LAN.  The performance is great and there is no noticeable lag time in issuing commands. Here's how it works.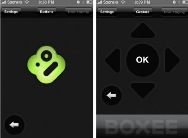 The remote application accesses your Boxee media center PC via Wifi and requires no server side application (other than Boxee obviously).  The iPhone/iPod  has two user interfaces for control.  The first is a gesture method that displays a Boxee logo in the middle of your device screen.  Place your finger on the icon and slide up down or side to side to simulate using the arrow keys on your keyboard.  Tap on the logo after you've highlighted your selection to accept, much like a mouse click.  The second user interface is called "Buttons" and its just what you think.  Select the buttons mode and a set of direction arrows, OK button and a back button appear on your device.  A volume slider bar across the bottom of the iPhone/iPod screen will adjust the audio of the computer being controlled.
The iPod/iPhone will also display thumbnails of the current video playing on Boxee and a Now Playing button will display Artist and Title of any music playing.
Boxee Remote Control will work with Boxee Media Center running on PC, MAC and Linux.  Go get it today!
Apple Itunes Store – Boxee Remote