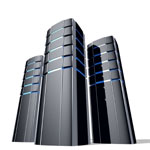 Choosing a web hosting provider these days can be daunting task with the vast number of options you have. Some think "Well its just a place to put my website, how complicated can it be?" In order to choose a competent and reliable hosting provider, you need to do some homework and see what services and guarantees your choice provides. Remember you always get what you pay for! Here are a few things you should look at when researching a potential web hosting provider.
1. Reliable Web Hosting
The web hosting provider you choose should be reliable and fast, they should guarantee your uptime (the time when it is functional). Look for a minimum uptime of 99%. Without that guarantee, the web host will have little incentive to ensure that its servers are running all the time.
2. Data Transfer (Traffic)
Data transfer (sometimes loosely referred to as "traffic" or "bandwidth") is the amount of data transferred from your web site to visitors each time someone views your site. Always look for details on how much data usage the package allows. 
To give you a general idea of the typical data transfer requirements of a website, most new sites that are not loaded with software downloads or FTP exchanges or the like use less than 2 GB of web hosting bandwidth per month.
3. Disk space
Just like the bandwidth limits, disk space maximu ms should be investigated. Most sites need less than 10 MB of web space. If you are provided with a web host that lures you with 5 GB (or "unlimited space"), You are unlikely to use that space, so don't let the vast space offerings be too big a factor in your decision when comparing with other web hosts. The hosting company is also aware of that, which is why they feel free to offer you that as a means of enticing you to host there.
4. Technical support
Do they offer technical support? Is it included with the web hosting or does it cost extra? Do they offer it 24 hours a day, 7 days a week all year around? You will be surprised at how often things go wrong at the most inconvenient of times. You wouldn't want to sign up for a host that is run by all sales and no technical staff. Who will help you with your problems?
5. Email, POP3, Mail Forwarding
In order for website viewers to contact you or a representative of you organization you will need an e-mail account available on the website. Does the web hosting provider include this with the package? Can it be automatically forwarded to your current email address? How many are included with your hosting?
7. Server
What platform or operating systems are available? 
 If you want to use things like ASP programs, you have no choice but to look for a Windows server. 
 My preference is to use cheaper, more stable and feature-laden Unix systems running the Apache server. If you require dynamically generated pages that can access databases, you can always use the more portable (and popular) PHP instead of locking yourself down to ASP. If you're using a system such as Drupal, Joomla or WordPress this functionality is a must. Another reason to use Unix-based web hosts (such as Linux, FreeBSD, OpenBSD, Solaris, etc) using Apache is that these servers allow you to configure a lot of facilities that you typically need on your site. The Unix based systems have a better stability track record for up time and security and currently host websites that make up 60% of the Internet.
8. Price
I would caution that while price is always a factor, you should realize that you often get what you pay for. I'm not saying, "Go with the most expensive", but on the other hand, the 5 dollar a month web hosting plans are usually base plans with no support, functionality, or guarantees.
9. Payment Plans
Most web hosts allow you to select an annual payment plan that gives you a cheaper rate than if you were to pay monthly. They should give you all the options to pay as you see fit.
10. Resellers?
Not all web hosting companies actually have their own web servers. Some of them are actually resellers for some other hosting company. The disadvantage of using a reseller is the possibility that you are dealing with people who don't know much about the system they are selling and who take longer to help you (they have to transmit your technical support request to the actual hosting company for it to be acted upon). However, this also depends on both the reseller and the hosting company. Do not rule out all resellers. There are a number of them that are quite good and cheap.