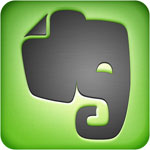 Evernote is one of the most well-known organizational programs on the Internet. The idea behind Evernote is to capture everything, organinze it, and make it searchable. Think of it as bringing the power of the database to all those sticky notes pasted to your monitor.
Some of the more innovative aspects of the application include incredibly simple copy and pasting from the web (both words and pictures) into Evernote and text searching within images. The latter requires some explanation.
Lets take a business card as an example. You can take a picture of the card using your phone and then upload it to Evernote. Evernote then performs OCR (optical character recognition) on the image and syncs the image back to your client. At this point any text in the image becomes searchable. Just type in a name and an image of the card containing that name will come up. No more wallet full of business cards to search through to find that phone number. This is just one example of how Evernote simplifies note taking in the real world instead of just on the computer.
The feature I use most is the simple clipping browser plug in. Simply highlight anything on a web page, click a button, and that information is transferred to a note and synced to Evernote so its available on any client you are using. I use this to copy snippets of documentation I might need in the future. With access from any smart phone or laptop I now have access to my personal encyclopedia of information at any time. It has been a real life saver.
Another feature worth mentioning is geo tagging. That is the process of tying a location to a note using GPS data. I find this useful when creating task lists. Create a group of task to be completed in the same location and never again forget to return the DVD's while your next door buying milk at the grocery store.
You will no doubt be impressed by Evernote and its wealth of features no matter what kind of organizational tool you're interested in.
Whether accessed through the website, desktop client or via a mobile phone the program is a great bet for the busy user interested in introducing a little more order to their day to day lives.