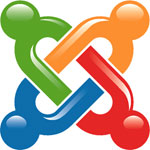 The Joomla website system is a CMS (content managment system) that allows you to quickly and easily build web, intranet, merchant or personal spaces quickly and easily.  Post content using a browser based managment portal just as easily as creating a document with a word processor and add tags and SEO information quickly and easily.  Create custom webpages that suit the needs of you and your viewers.  The benefits and uses are endless but thats not the best part.
The best part of Joomla is that its open source.  Its free to use!  Since this is an open source platform, that means there are millions of dvelopers working on it everyday making it better and easier to use.  Plugins and new functionality is being added everyday.  Some of these added features include, polls, galleries, calendars, forums, blogs, banner systems and anything else you could possibly want in a web design.  Cant find a plugin for a function you want?  If you have a little programming experience you can build it yourself.  Dont have any programming experience?  Submit a request to the Joomla community.  Thats the beauty of open source!
Take a look at Joomla! and see what it can do for your website!