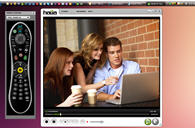 Hava HD is a Ethernet device for streaming your TV signal across your network to your PC. Don't have a TV in your kitchen,  drop your laptop on the counter and fire up your Hava Player.  The software gives you full motion video and audio along with a software based remote control to control your Tivo, Sat box, or VCR (who has one of those still).  I have played with this some over the past 3 weeks and so far I am pleasantly surprised.  Video and audio on the local LAN is superb and set-up was fairly straight forward.  The kicker for this device over the popular Slingbox is that Monsoon is developing a client for the Nokia Internet Tablet (N800/810).  The software is out for beta testing this week.  More on that later.
I received the Hava Platinum HD in the mail a couple weeks ago and quickly ripped it out of the package (Christmas Morning Style).  The contents included the Hava Platinum HD, Ethernet cable, 2 Component HD cables, 2 AV cables, powers supply and CD.  The Component and AV cables are standard RCA connectors on one end and 1/8th inch 4 contact phono connectors to interface with the Hava box.  The Hava Box is capable of streaming HD channels across your network and has HD pass through so you can place your Hava Box in-between your cable box and TV, hence the two HD cables.  Audio is only standard stereo unfortunately and is handled by the AV cables minus the video plug.  Hell, if you wanted 5.1 surround, go sit in front of your 72 inch plasma with your 3000 dollar surround system with your 18 speakers.  That's what you bought it for.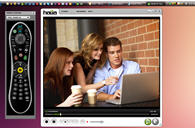 Heres the rundown:
Hava Platinum HD- HD and Standard Definition, IR blasters for cable or Sat box control,wired Ethernet only, recording or time shift capabilty to a PC and NO built in tuner.
Hava Wireless HD – HD and standard Definition, Standard Definition tuner built in, IR blasters for cable or Sat box control, wireless bridge built in, recording or time shift capability to a PC.
Hava Titanium HD – HD and  standard definition, IR blasters for cable or sat box control, wireless USB dongle with future support for N networks, recording or time shift capability to a PC.  This unit also has an internal hard drive or 2 USB ports to plug in an external drive for recording.  This function is in beta now. No built in tuner.
As of today, Hava only supports Windows based software for the player.  The software has a nice interface and is easy to set-up and use but the real advantage these units have over the Slingbox is that they are developing the client for the N800 and Linux support.  Thanks for showing the penguin a little respect.  More on this later when I get my copy of the Internet Tablet software.