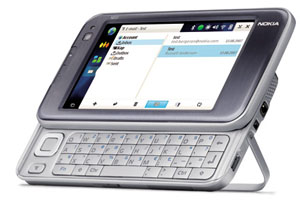 I'm having a good morning. Why you might ask? Well Nokia has announced a price drop on one of my favorite gadgets of all time. The Nokia 810 internet tablet. Nokia has dropped $90 off the MSRP to bring it to $389.99. Of course, you can probably find this, all in one, Linux based dream for less if you search around and I know you will.
A little tip here. The Nokia 800 is the same device minus the keyboard and GPS receiver. In trade you get an additional SD slot. The great thing is you can find the N800 on eBay for less then $150. This price drop on the 810 probably means a similar drop on the 800. YES!
Before you rush out, though, you might to consider this: in the past Nokia price drops are usually followed by a new product. The day just keeps getting better. Does that mean the rumored WiMAX-equipped N830 is close? I guess you have to know when to hold em, and know when to fold em, or something like that.