If your tired of updating all of your social networks individually (ie Twitter and Facebook), check out the new TweetDeck.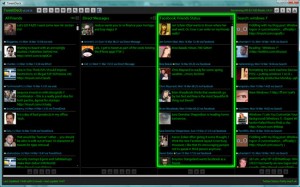 Just 2 days after the announcement by Seesmic of a standalone Facebook application that is built on Adobe Air just like TweetDeck,  Facebook now is integrated into TweetDeck.  You can post updates to Twitter and Facebook at the same time and retweet information in both directions.  The app is limited to posting updates only so you cant comment or reply to friends and have them show up on the other service, but is that really needed or wanted.  Other functions include the ability to see which friends are currently online and even includes the IM function in Facebook.
Installation is the standard 3 clicks and go, so no issues there.
This is now available for download but is still in Beta so there may be more functionality to come.  Really nice addition to Tweetdeck and makes my online social agenda so much easier.