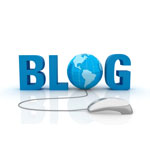 Adding a blog to your organisation's web site can, if done correctly, used to post quality, useful, and informative content, offer a powerful and dynamic component to your web presence. There are a number of reasons why blogging is a great way to develop a new leads, promote a campaign, a cause or share new ideas and concepts. When you take a holistic and informative approach to sharing information and combine this with the  collaboration tools now available, blogging can generate a mixture of respect, authority and loyalty for your brand.
This type of loyalty and trust can be extremely hard to achieve through conventional advertising. Not only can your visitors turn into new business leads, they can also assume the role of advocates, sharing your content across the Internet on social networking websites and social bookmarking services. This is the holy grail, viral marketing.
Adding a blog to your organizations website can have several advantages.
Adding a blog can help provide a human face to your organization. If people can care about and form a closer relationship with you they will naturally share their experiences with your organization. This can be in the form of inbound links. This an extremely important component of any SEO – Search Engine Optimization campaign. Many SEO professionals will recommend making brief posts, at Wi-Phye we like to create blogs with quality content, targeted headings, subheadings and content that answers the user's request for information. If the content is compelling, relevant and serves the reader's need for information, then people will read every word. If you meet the readers need they'll subscribe and link to the blog, which is the whole point of starting a blog in the first place.
At Wi-Phye, we are experienced in giving advice on and generating quality blog copy.
Blogging can act as a feedback mechanisms. By enabling visitors access to an almost real-time feedback system through social networking sharing and other forms of interaction, you can quickly gauge the status of and reaction to an agenda that you are largely in control of setting. A blog can help reveal successes and failures, allowing you to act accordingly to enhance a successful strategy or head off any issues before they cause a problem.
Adding a blog helps an organization define, analyze and present their knowledge for easier consumption. A blog can help you share what you know, think and believe in a succinct and attractive way. This encourages search engine indexing, making it easier to be found by customers and prospects alike.
Blogs provide value to the reader by addressing problems, answering any questions, concerns, or needs that the reader has. Genuine, honest,  and informative blog posts can create a buzz about your product or service. Customers love posts that can help them solve problems or recommend solutions to any issue they may encounter. A blog should focus on the 'how' and not the 'what' can be done. If you are worried about giving away too much information, then you're on the right track.
Blog posts tend to have a short shelf life. You should try to setup a schedule and make regular posts to keep it fresh and up to date. This is critical to building a following and promoting return visits.
A blog can offer multiple channels to information sharing and marketing that were never possible in the past. You should encourage interaction and participation. Your articles titles should stand out and grab the readers attention. They should engage and communicate the value of reading further. Be sure to invite contributions using tools such as comments and social networking to ensnare the user's attention.
Major blog service providers such as Wordpress or Blogger offer attractive stand-alone or integration templates that allow adding a blog to your website. WordPress has an impressive eco-system of plug-ins that can add powerful additional functionality including RSS feeds, streaming media, Twitter / Facebook account integration and so on. If you can think of it there is probably a plug-in for it. The RSS feed of your blog is one of the easiest ways to promote return visits. Once subscribed, a reader will keep receiving your posts until they decide to remove it. Each article is a new opportunity to entice readers back to your site.
Some people haven't discovered RSS readers so, as a fall back, to maximize your readership, you can use your RSS feed to email posts in the form of a weekly newsletter. We can setup systems to parse your RSS feed and allow users to sign-up for emails containing your posts.
Adding a blog can help establish your credentials within an industry and help position you as an expert and worthy source of information and opinion.
The first question to ask when adding blog is whether to set it up as subfolder or sub-domain. For example:  domain.com/blog/ or blog.domain.com/. The real potential of adding a blog is being able to add new content to improve your website's search engine ranking. In this case the sub folder route is probably most appropriate. There are also implications regarding the existing status of the main site. If it is likely that the blog and the main site will be heading off in very different directions on occasions, then a sub-domain approach might be more appropriate.
The next consideration is platform. Be it WordPress, Blogger, Typepad or any one of a number of packages, Wi-Phye will consider the relative advantages and specify the most appropriate software solution. Our extensive experience in both adding a blog and Article Writing makes us a valuable partner.
Wi-Phye is an experienced Cleveland SEO provider. To find out more about how Wi-Phye's SEO Services can help you by adding a blog, Contact Us today.