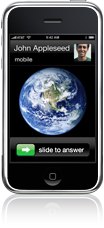 Just in case you live under a rock like I do, Apple released the iPhone SDK today. Apparently its free but, it costs 99 dollars to publish an application. Considered yourself informed. Back to trimming my nails.
Quick highlights.
SDK released for free.
iPhone/Touch update in June.
App store.
No, you can't buy the SIM unlock app in the store.
Finally, corporate messaging in the form of Exchange support.
Head over to gizmodo or engadget for the coverage. I couldn't do it any better.